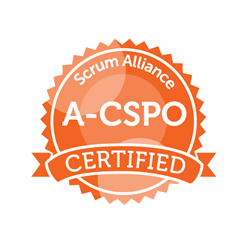 Why is this course important?
Product Ownership is pivotal to maximise the value delivered by the Scrum Team. If you have the CSPO certification and are looking to provide even better outcomes for your customers and business then this course is for you.
This course will help you:
Discover and shape better outcomes

Bring the customer into the room

Improve your collaboration and engagement with stakeholders

Improve your collaboration with your team(s)
This Advanced Certified Scrum Product Owner course is the second step on the Path to CSP (Certified Scrum Professional - Product Owner) and builds on the fundamental principles and practices covered in the CSPO course.
Topics covered include:
Product Planning

Levels of Planning
Product Strategy and Visioning
Slicing your Product Backlog for faster feedback and roadmap initiatives
Forecasting techniques
Modelling and Forecasting Value
Approaches to understanding and modelling value
Maximizing the flow of Value in your organisation through Value Stream Mapping
Engaging Stakeholders
Understanding threat based neurological responses, how to engage with a reward-based response, and effectively understanding your stakeholder landscape including relationship nuances.
How to apply an experimental based approach to organisational change
Practice facilitation techniques
Product vs Project approach to delivery
Defining a Product
Outcomes over Output
Customer research and Product "Discovery"
Validating assumptions
Advanced techniques for the Product Backlog
Product Ownership at Scale
Organisational design and scaling for Product Based delivery
Key patterns for groups of teams, team organisation and synchronisation across teams and specialisms.
How these patterns relate to popular scaling approaches
Using Product slicing for cross team synchronisation and dependency management
 Schedule
The course runs to a convenient 1:00pm - 17:00pm schedule over 4 days along with some homework to enable really deep learning along with some space to fit in other aspects of your life. There will also be regular breaks for tea and coffee and to stretch your legs.
Preparation
We recommend you have a (re)read through the latest Scrum Guide, written by Ken Schwaber and Jeff Sutherland the co-creators of Scrum. The Scrum Alliance also has a nice overview of Scrum which might serve as refresher.
What do I need to take part in this course?
The most obvious thing you will need is a good WiFi and Internet connection with a nice quiet environment for you to both hear and also interact with your fellow course attendees and us lovely trainers! Don't worry about the odd child/dog/cat/partner wondering past or interrupting occasionally, we'll just roll with it :-)
We recommend a laptop or desktop with good sound and microphone. Course participants have struggled on phones and tablets. We will be using Zoom for the video conference functionality with a waiting room and password configured to provide a reasonable level of security. If you can, we recommend installing the Zoom app on your device but the web version should work as a plan B.
Course Outcomes
Qualification for A-CSPO requires:
Full attendance of the course
Engagement in group exercises
Have successfully achieved CSPO
Have a minimum of 12 months Product Owner experience.
Following successful completion of the course, eligible participant will become an Advanced Certified Scrum Product Owner (certification fee is included in the course fee).
An electronic version of course slides, materials and workshop output will also be provided.

Your Trainers
Matt Roadnight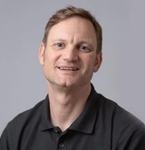 I'm passionate about business focusing on value and the value learners get from attending my training. Beyond Agile frameworks, I'll focus on the techniques that fit most contexts to align individuals across organisations, delivering business outcomes whilst balancing organisational constraints.
I am a Path to CSP reviewer for the Scrum Alliance, approving advanced Scrum training materials for other trainers in our global community.
In what's left of my spare time my wife and I love to attend live gigs and festivals we have just converted a camper van to improve the festival experience !!  I play 5 a side footy most weeks, run a bit and can occasionally be found cycling the Surrey Hills.
Colin Bird

Although best known for my long association with Scrum, I love everything Lean, Agile and Kanban. I get a buzz out of catalysing new ideas, collaboration, creativity and innovation to engage the full potential of teams and leadership. I am a member of the TAC (Trainer Approval Committee) for the Scrum Alliance and a collaborator on a Scaling Principles & Practices initiative.
Away from work, I try and squeeze in way too many sports and hobbies: road cycling up mountains, trail running with my dog, sailing, skiing, diving and lots of DIY projects!
Terms & Conditions
Full refunds are available 15 business or more days before the scheduled event date. Cancellations made 10 or more business days before the event will be credited toward future events, however, no refunds will be issued. Rescheduling course attendance within 10 full business days or less will be subject to a transfer fee of £100. No refunds or credits will be available for participants that fail to attend all days of the course. Substitutions will be accepted at any time prior to commencement of the course.

In the unlikely event that we need to cancel or postpone the course you will be offered your choice of a discount on a later course or a full refund.
If you would like to pay via invoice then please contact us on info@ripple-rock.com.