---
---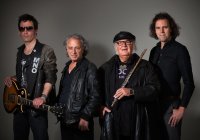 With their unique brand of progressive rock, Focus manifested themselves at the start of the 70s as the most successful and appreciated of all the Dutch pop-rock exports. Fronted by founding member Thijs Van Leer, and best known for their hits "Hocus Pocus", "House of The King" and "Sylvia", as well as critically acclaimed albums 'Moving Waves', 'Focus 3' and 'Hamburger Concerto', the iconic Dutch music masters have continued to please their legions of fans with new live and studio albums.
After a comeback in the early 2000s, which resulted in the well-received albums 'Focus 8' and 'Focus 9', the band regrouped with a fantastic new line-up. Along with Sir Thijs van Leer (knighted by Queen Beatrix in 2008 as the first Dutch Rock musician knight) on vocals, flute and keyboards, the band also includes famed drummer Pierre van der Linden, who joined the group on their second album 'Moving Waves' in 1972. Internationally renowned for his rhythmic skills, Pierre remains a defining factor in the Focus sound. Guitarist Menno Gootjes joined in 2010 after participating in Focus at an earlier stage, and acclaimed bass player Udo Pannekeet (joined 2016) completes the band's current line-up.
In 2010, Focus's biggest worldwide hit "Hocus Pocus" spearheaded Nike's 2010 World Cup campaign. Focus's music can be regularly heard on Top Gear and Saxondale on TV in the UK, as well as on computer games and it many Hollywood blockbusters, most recently Baby Driver (2017).

A new Focus era has arrived! There's a rejuvenated passion amongst the band as they released the first studio album for six years, 'Focus 11', in early 2019. They toured the world in support of the new album and were building up to their 50th Anniversary but unfortunately events overtook them. But 2022 sees Focus back on stage where they belong and love to be.