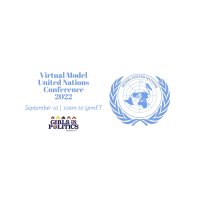 Our Virtual Model United Nations Conference 2022 will take place on September 10, 2022. Model United Nations, also known as Model UN or MUN is an education simulation teaching students about the United Nations, international relations and diplomacy. Each student will serve as a UN delegate representing a United Nations member state giving her the opportunity to develop her leadership and critical thinking abilities. During our pre-conference sessions students will develop their speaking, debating, research and writing skills. The GIP Model United Nations Conference is organized in accordance with the newly published United Nations Guide to Model UN. Looking for more events? View our 2022-2023 schedule at https://buytickets.at/girlsinpoliticsinitiative

Virtual Model United Nations Conference 2022 Schedule
Pre-Conference Sessions | Virtual Model UN Conference
Sessions will include instruction on public speaking, debating, research methods, guest speakers and briefings. Pre-conference sessions will take place on August 6, 20 and 27 from 11am to 2pmET. There will be two make-up pre-conference sessions on August 21 and 28 for those students that miss a regularly schedule pre-conference session. Students may also request a 1:1 make-up session based on instructor availability. 

Day 1 | Virtual Model UN Conference
September 10, 2022
10amET to 5pmET (All students will check-in virtually and proceed to the virtual opening session upon arrival)
Opening Session and UN Briefing
All Committee Sessions
General Assembly Plenary Session

Closing Session
The delegate registration fee includes all delegate conference materials. No advance preparation is required for delegates. Registration open to girls ages 11 to 17, students living outside the United States will receive their conference materials via email in a .pdf file. The conference materials and the conference will be presented in English. For additional information please email all questions to info@girlsinpolitics.com or contact an enrollment advisor at +1 866-226-5911.
Frequently Asked Questions
Is the conference registration fee refundable? The registration fee is non-refundable unless the organizer cancels the session. If a participant is unable to attend the conference a credit will be placed on file that may be used at any time for a future program. The credit does not expire.
Is this a partisan program or supported by a political party? No, the Girls in Politics Initiative is an independent organization that is self-funded through the fees generated from hosting sessions. The curriculum is civic education.
Who are the instructors? Our Lead Instructors are women that currently or have previously worked in government or electoral politics.