---
Buy tickets
Ticket Type
Price (£)
Fee (£)
Quantity
---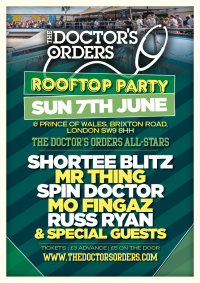 THE DOCTOR'S ORDERS – Rooftop BBQ
3pm-Midnight Sunday 4th June 2017
Prince of Wales, 467- 469 Brixton Rd, Brixton, London SW9 8HH
£3 advance || £5 on the door
Tickets & Info - www.thedoctorsorders.com

-------------------------------------------------------------------------------------------------------
DJs
Shortee Blitz
Mr Thing
Spin Doctor
Russ Ryan
Mo Fingaz
-------------------------------------------------------------------------------------------------------
The Doctor's Orders are hailed by many as the most consistent crowd rockers in London if not the UK. Having been throwing parties for the past 12 years it is little wonder.

For this their first roof party on top of Brixton's brilliant Prince of Wales they are keeping is strictly family with residents that have helped them build such a great reputation.
Expect a sunlashed session of the best Hip-Hop, Soul, Disco, Garage and who knows what else from this incredible line up of DJs.
www.thedoctorsorders.com